Hinokinaigawa-Tsutsumi Park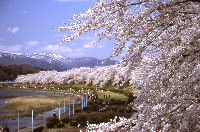 Hinokinaigawa-Tsutsumi Park can be found along the banks of the Hinokinaigawa River. During the spring, a two-kilometer-long stretch of cherry trees along the riverbank bursts into delicate bloom.
The source of the Hinokinaigawa River is found in the Takasaki forest in northern Akita Prefecture. From there, the river flows southward towards Kakunodate, skirts the western limits of the town, and merges with the Tamagawa River.
The park's cherry trees were planted in spring 1934 to commemorate the birth of Emperor Emeritus Akihito on December 23, 1933. The trees have faced adversity over the years, but conscientious local community care has ensured the survival of a two-kilometer-long stretch of around 400 cherry trees.
The sight is so striking that in 1990 the park's cherry trees were selected as one of the "100 Best Spots for Cherry Blossoms" in Japan, along with the shidare-zakura weeping cherry trees that grace the Bukeyashiki-dori samurai residences. Every year during the cherry blossom viewing season, 1.3 million people visit the park, which has also been designated a Place of Scenic Beauty by the Agency for Cultural Affairs.
In addition to the attraction of the cherry trees, the clean, clear waters of the Hinokinaigawa River draw fishing enthusiasts angling for sweetfish(ayu). Permits are required to fish and are available for purchase at a number of local shops.
Location

Nakakawara, Ogata/Kitano, Kakunodate

Contact Info

Semboku City Tourism Information Center "Kakunodate Ekimae-Gura": 0187-54-2700

Traffic access

Fifteen minutes on foot from JR Kakunodate Station
Akita Airport Liner