Shidarezakura (weeping cherry) of Bukeyashiki-dori
In the Meiwa era (around 1770) , Soshu Masuto, a renowned scholar of Japanese classical studies from Akita, visited another scholar in Kakunodate. He described the cherries as follows--"The cherries with thousands and hundreds of strands, a hundred cubits long, come down with mists and clouds; it is as if thousands of snow flakes dancing like cotton in the wind, or vast waterfalls inverting and flickering into the sky." This describes the shidarezakura in the house of Sadaemon Furu-umetsu, located west of the entrance of Higashikatsurakucho.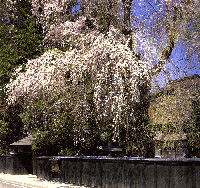 The description of the length of the shidarezakura indicates that the tree would have been over 100 years old. Thus it is considered that the cherries began to be planted shortly after 1656, when the North Satake Clan was given the rule of the land.
The shidarezakura of Kakunodate well resisted the wind and snow with the loving care of the people, and is a precious treasure of the town.