Weeping Cherry Trees of Kakunodate: A National Natural Monument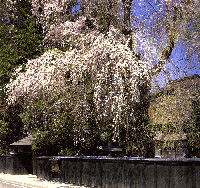 The weeping cherry trees (shidare zakura) in Kakunodate's former samurai district are designated a National Natural Monument. An important part of the city's heritage, the trees have survived centuries of wind and snow thanks to local residents' tireless care.
Around 1770, an Akita Domain retainer and renowned literary scholar, Masudo Soshu (1726–1777), paid a visit to a scholar in Kakunodate. Upon seeing the city's weeping cherry trees, he was moved to write:
The countless branches that hang from the stretch of cherry trees reach toward the ground like trails of mist; it is as if snowflakes flutter lightly in the wind like cotton, or a towering waterfall spouts upward into the heavens.
The weeping cherry trees that inspired Masudo's words of wonder were located on the grounds of Umezu Sadaemon's residence, which was once located on Bukeyashiki-dori.
The description of the length of the branches indicates that the trees must have been over one hundred years old when Masudo visited, meaning that these historic trees were likely planted soon after the North Satake family of the Satake clan started ruling Kakunodate in 1656.
Location

Higashikatsurakucho, Kakunodate, etc.

Contact Info

Semboku City Tourism Information Center "Kakunodate Ekimae-Gura": 0187-54-2700

Traffic access

Twenty minutes on foot from JR Kakunodate Station
Akita Airport Liner