Festivals of Kakunodate
A Matsuri (festival) is a event to pray for the descendence of god, of common folk wishing for peaceful life.
These days, festivals tend to be empty, without much regard to god. The Matsuri in Kakunodate still preserves the simple religious beliefs, to wait for and revere god, along with fierce events where young people excercise all of their strength into terrific impact. It truly resembles the true Japanese festival.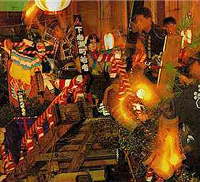 On September 7, 8 and 9, the Matsuri Emaki (picture scroll) dyes the town in a vivid color, enamoring not only the young people pulling the dashi (parade float), but also the sightseeing viewers. The O-okiyama, the puppets, Oyama-bayashi, the Teodori dance...they are all precious culture preserved into the modern age by long heritage and the hands of the common people. On the dashi rides chanters of the Oyama-bayashi, and on the stage, dacer girls younger than twenty from northern Semboku (known as a place of Akita-Bijin beauties) dance the Teodori.
The Oyama-bayashi can be roughly divided into three types: the march, the offering dances, and the artistic dances. Many artistic dances have Akita's folk music introduced into them.
| | |
| --- | --- |
| Location | In the town of Kakunodate |
| Contact Info | Septemeber 7, 8, and 9 |