Tozawa Sasara (prefecture-designated intangible folk cultural asset
Introduced into Akita when the Satake clan transferred from Hitachi. There are several views of its origin: Tozawa Sasara is not from the Kanto region but from Nambu Shizukuishi via Hosendai; tradition says that some rich youngster got an inspiration from lions dancing in his dream when he took a nap on a mountain.
The mask used for the lion head in Nambu is a wooden mask, which originated in dear dancing, mostly remained in Iwate prefecture.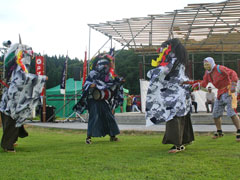 | | |
| --- | --- |
| Location | Tozawa, Kamihinoki, Nishiki |
| Contact Info | Semboku City Board of Education, Cultural Asset Section: 0187-43-3384 |