Kandekko-Age of Nakazato
The Kandekko-Age Festival of Nakazato is a Lunar New Year festival of Nakazato Sainoshin, and is celebrated annualy on January 15 of the lunar calendar, but its origin is not clearly known.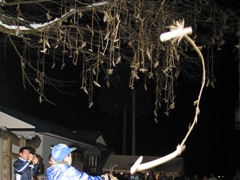 Kandekkos of Kandekkko-Age are small plows made from magnolia wood. A Kandekko and a penis-shape made of walnut wood are tied together on both sides of a sacred straw festoon. Then it is thrown into the sacred Japanese Judas tree (village-designated natural treasure) , wishing for the year's good harvest, marriage, and household welfare.The wish is said to be granted if the Kandekko is thrown right, and the successful Kandekkos, when taken off and hung on fruit trees such as chestnuts and persimmons, will make the tree give plenty of fruits. It is a festival of lunar new year, wishing for fertility and protection from plagues. In the night, straw is piled up and burned in the rice fields, wishing for good harvest.
| | |
| --- | --- |
| Location | Nakajima, Hinokinai, Nishiki |
| Contact Info | Semboku City Nishiki Area Center, Regional Development Section: 0187-43-2244 |
| Traffic access | Two minutes on foot from Akita Nairiku Line Ugo Nakazato Station |
| Shedule | January 15 of the lunar calendar |