Lake Tazawa's Scenery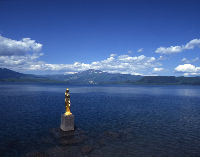 At 423.4 meters deep, Lake Tazawa is Japan's deepest lake. The brilliant blue water is surrounded by lush green mountain forests, which are mirrored in the lake during calm days.
A symbol of Semboku, each season unveils a new look for Lake Tazawa: cherry trees bloom along the lakeshore in spring, while the fall leaves blaze red and orange, eventually changing to deep white snow in the winter.
Historic sites and leisure spots dot the lake's 20-kilometer shoreline, which can be enjoyed by car, bicycle, or pleasure cruise. Shirahama, a pristine white-sand beach on the lake's eastern shore, is open for swimming for several weeks during the summer, while from spring through fall visitors can enjoy pedal boating and paddle-boarding.
At the northern end of the nearly perfectly circular lake, a vermillion torii gate rises from the lakeshore. This is Goza-no-ishi Shrine, which is also close to a number of interesting sights related to a local legend about a woman named Tatsuko who transformed into a dragon. On the western end of the lake, the golden statue of the legendary young woman rises from the waters, one of many sights to discover along the shores of Lake Tazawa.
Location

Sako, Tazawakokata

Contact Info

Tazawako Tourism Information Center: 0187-43-2111

Traffic access

Regular bus from JR Tazawako Station (Tazawako Round Trip)
Akita Airport Liner (Kakunodate/Tazawako/Tamagawa Hot Springs Course)