Mt. Akita-Komagatake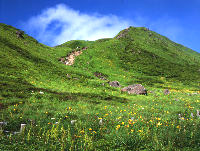 Mt. Akita-Komagatake is the collective name for several peaks in the Ou mountain range found in southern Akita Prefecture, and includes Mt. Onamedake—the highest peak at 1,637 meters—Mt. Odake and Mt. Medake. The mountain is Akita Prefecture's tallest, and along with Mt. Nyuto is considered one of the most scenic mountains in the southern end of Towada-Hachimantai National Park.
Mt. Akita-Komagatake is home to many alpine plants and is widely held to be one of the best sites in northern Japan to see them. Several hundred species, including primrose(hina-zakura), avens(chinguruma), takane sumire violets, and deep pink komakusa dicentra bloom profusely between mid-June and mid-August. From late September into early October, fall foliage takes center stage.
The mountain is also a popular hiking destination. Buses regularly depart for the mountain's eighth station from Arupa Komakusa, home of the Akita-Komagatake Information Center, Komagatake Volcano Disaster-Prevention Station, and Shizen Fureai Onsen Hot Spring Center. From there, it is a short trek to the summit and its panoramas of Mt. Chokaisan, Mt. Iwate, and blue Lake Tazawa below.
Hikers can also choose more intense trails that crisscross the mountain, with a route heading all the way to Mt. Nyuto. While there has not been any serious volcanic activity since the 1970s, hikers should bear in mind that Mt. Akita-Komagatake is an active volcano and as such it is important to check the current level of volcanic activity at the Akita-Komagatake Information Center before setting off.
Location

Komagatake, Obonai, Tazawako

Contact Info

Tazawako Tourism Information Center: 0187-43-2111

Traffic access

Regular bus from JR Tazawako Station (For Komagatake Eighth Station) 1 hour and 30 minutes from the Eighth Station
Akita Airport Liner (Kakunodate/Tazawako/Tamagawa Hot Springs Course)