Tsurunoyu Hot Springs
A hot spring with the oldest history in Nyuto Hot Springs village, being the private spa of the lord of Akita in the Edo period. Even now, there remains a thatched-roof row house, which was the honjin, the guard house for the escort samurais.
A little way back from the honjin, there is the Annex Yama-no-Yado, a magariya-style inn built using local timber.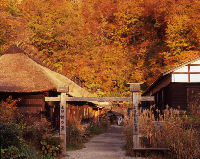 Spring quality: Sodium bicarbonated, common salt, hydrogen sulfide spring, etc. Effects: Neuralgic pain, rheumatism, skin diseases, gastrointestinal illness, urinary diseases
Location
Sendatsuzawa, Tazawa, Tazawako
Contact Info
Tsurunoyu Hot Springs: 0187-46-2139/Yama-no-Yado: 0187-46-2100
Access Information
Regular bus from JR Tazawako Station (For Nyuto hot spring)
Akita Airport Liner (Kakunodate/Tazawako/Tamagawa Hot Springs Course)