Sightseeing Spots: Kakunodate Area
Tomachi Interaction Square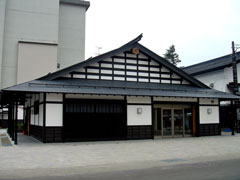 Opened on November 1, 2008 as a base for visitors of Kakunodate Tomachi where they can rest and enjoy. In the facility, there is an outdoor event square and interaction building (conversation room and public restroom with a toilet for ostomates) so that visitors can rest and enjoy events.
What is Tomachi of Tomachi Exchange Square?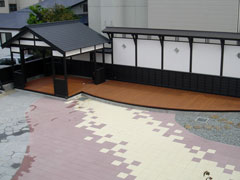 Stretch of Kakunodate commercial area adjacent to the southern part of Bukeyashiki district (Uchi-machi).

10 Iwase-cho, Kakunodate-machi, Semboku City

Semboku City Commerce and Industry Section: 0187-43-3351

9 minute walk from JR Kakunodate Station, or 9 minute walk from Kaba Craft Densho-kan on Bukeyashiki St.