Sightseeing Spots: Kakunodate Area
The Townscape of Kakunodate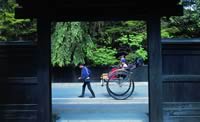 Kakunodate, with its deep boscage and stately old-fashioned mansions, still has the air of the Edo era. Its atmosphere befits the name Little Kyoto of Michinoku (Tohoku) , and is also a famous place for cherry blossoms.

The town was established in 1620 by Yoshikatsu Ashina, then ruler of the Kakunodate area. To the north of the rich Semboku plains and shielded on three sides by mountains, with Hinokinai River on the west and Tamagawa to the east, it was an ideal place for forming a castle town.

Among the plans of the town, it is noticable that there were Hiyoke (fire shield) mounds in the center of the town, dividing it into two--the inner town where samurais dwelt, and the outer town where townsmen lived. The Bukeyashiki, houses of the samurais, were not mere houses, but also formed a single castle together.
The area between Route 46 on the foots of the Furushiroyama mountain and Hiyokemae is known as Bukeyashiki-dori, and was designated as Important preservation districts for groups of historic buildings on September, 1976.

In the town of Kakunodate

Semboku City Tourism Information Center "Kakunodate Ekimae-Gura": 0187-54-2700

Ten minutes on foot from JR Kakunodate Station
Akita Airport Liner