Sightseeing Spots: Kakunodate Area
Shrines and Buddhist Temples
Hoshinji Temple

Erected in the Tozawa era, the temple was of high status, for which the resident priest would be allowed by the emperor to wear scented vestures. It has the oldest bell in Kakunodate.

10 Nishikatsurakucho
Jokoin Temple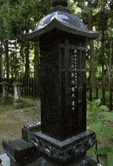 The family temple of the North Satake Clan. There is a cemetery for the fallen imperial soldiers in the Boshin War.

25 Nishikatsurakucho
Shinmeisha Shrine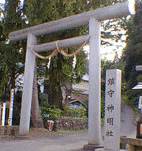 A shrine for Amaterasu, and tutelary of this land from old. The annual festival in September is the biggest in this town. Along with the festival of Yakushi-do, it goes on for 3 days.

149-2 Iwase, Kakunodate
Soshi-do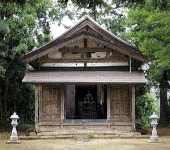 Stands on top of Otsukayama mountain.

71 Uwano, Kakunodate
Uzumaki (Spiral) Tenjin Shrine

A statue by Kingo Hamada.
Named for the spiral-like stones in the temple grounds. Enshrines Michizane Sugawara, the god of scholarship.

Iwase, Kakunodate
Yakushi-do (Jojuin Temple)

The oldest local shrine dating back to the Tozawa era. The parade float for the Autumn Festival in September is related to this temple.

Nishikatsurakucho, Kakunodate
Tenneiji Temple

The family temple of the Ashina Clan, moved from Aizu. It has the tombs of the Ashina Clan, and a giant statue of Buddha. There is also the Fudezuka (ink brush mound) of Hyakusui Hirafuku in the hill in the back of the temple, looking down on the town.

10 Kamishinmachi, Kakunodate
Gakuhoji Temple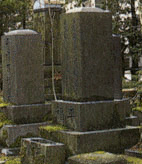 A temple moved from Aizu with when Ashina became lord of Kakunodate castle. Within the temple grounds are the graves of the father and son, Suian and Hyakusui Hirafuku.

63 Nishikatsurakucho, Kakunodate
Shoanji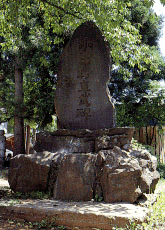 Family temple of the Imamiya household, once the head of Shugen-do monks of the whole Kanto area. Also has the grave and monument of Naotake Odano, the founder of Akita Ranga (western style painting).

47 Tamachikamicho, Kakunodate
Ojoin Temple

86 Nishikatsurakucho, Kakunodate
Saikakuji Temple

67 Nishikatsurakucho, Kakunodate
Nicchoji Temple

1 Kawara, Unosaki, Kawara, Kakunodate
Hoshinji Temple

10 Nishikatsurakucho, Kakunodate
Honmyoji Temple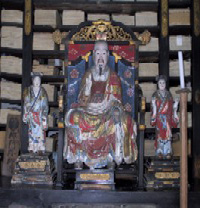 The Issaikyo Sutra in this temple is a town-designated tangible cultural asset. It is also the family temple of the home of Shinchosha's first president.

61 Nishikatsurakucho, Kakunodate
Manpukuji Temple

47 Teramae, Kawara, Kakunodate
Myokoji Temple

71 Uwano, Iwase, Kakunodate
Ryuganji Temple

330 Tanaka, Kumoshikari, Kakunodate
Ryusenji Temple

131 Takewaramachi, Kakunodate