Sightseeing Spots: Dakigaeri/Jindai/Shiraiwa
Dounokuchi Sasara Festival (city-designated intangible folk cultural asset)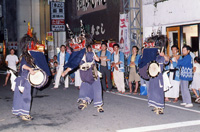 Although it is said that the Satake clan servants introduced Sasara dance into each village when Satake transferred from Hitachi, it is a general understanding that Dounokuchi Sasara was developed by combining the local lion dance with the Sasara from the Kanto area.
Dounokuchi Sasara is a small version of Shitagawara Sasara (prefecture-designated intangible folk cultural asset), but it follows the same process and is known as lively as well as valiant.
Engisho (a history book discussing a specific origin) containing historical details, such as the reason and background of why Sasara dancing started in Shiraiwa district in the Edo era, is regarded as being so valuable because the contents are significantly different from the engisho initiated in Kunimi.

Shiraiwa, Kakunodate

Kakunodate Tourist Association "Ekimae-gura": 0187-54-2700

August 13 - 17